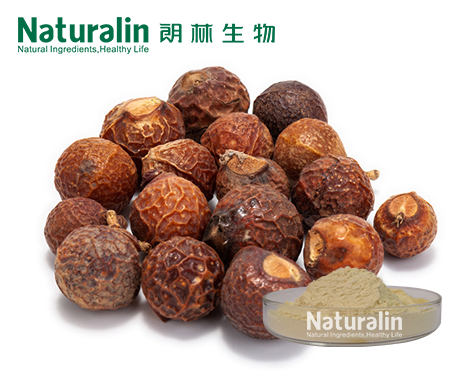 Экстракт Сапиндуса
Naturalin Кодекс:

NAT-224

Спецификации продукта:

70% сапонинов

Латинское имя:

Sapindus mukorossi Gaertn.

Метод испытания:

UV-VIS

Мы здесь, чтобы помочь:


Easy ways to get the answers you need.

ОПИСАНИЕ ПРОДУКТА
The soapnut tree was originally native to China and southern India, but today it is widespread throughout most countries.Soap nut extract main active ingredients of Soapnut Saponin are of three kinds: triterpenoid saponins(Ⅰ),sesquiterpene glucoside(Ⅱ),Fatty oil and protein. and Soapnut Saponin is a non-ionic surfactant,which has a strong role in reducing surface tension, effectively wash in addition to and attached to the skin surface due to contamination of heavy metal particles, and the cleaning ability is better than most other detergents. In addition to cleansing benefit, it can even prevent bacteria's further growth, remove scurf, whiten, fade spots, and moisten skin. Moreover, It can remove and reduce pesticide and chemical residues.Soapnut Saponin is pure nutural product without any synthetic detergent,essence,pigment or aseptic.it is mild and can be totally degraded without any residual harming health and environment.

High quality soap nut extract
1.Be widely used in cosmetic.
2.Antifungal antitumor, protect the liver.
3.Dispel spot whitened,fight the itching and antibacterial.
4.To be used as Detergent class.

Naturalin uses pure water and ethanol as the extraction solvent of Soapnut Saponin and we strictly regulate the production process, which effectively avoiding the toxic solvent residue and impurity contamination. We believes that good raw material to produce good product, we have a reliable、low-cost、high-quality Soapnut supply.


Сопутствующие товары
Связаться с нами
почтовый ящик: sales@naturalin.com
Телефон: +86(731)84430651
Бесплатный образец
Подписывайся Naturalin

ЗАПРОС
Сырье, только оптом, в розницу не доступно..
Why Subscribe Naturalin Newsletter & Magazine?
As a leading plant extract manufacturer in China, Naturalin would like to offer you plant extract marketing inforamtion for you
in the form of monthly newsletter and semiyearly magazine, it is free of charge. Many thanks.